North Myrtle Beach, SC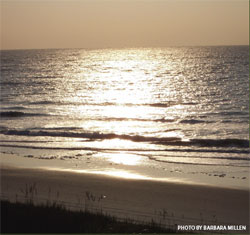 In 1968, four small beach towns–Windy Hill Beach, Crescent Beach, Ocean Drive Beach and Cherry Grove Beach–joined forces to form the city of North Myrtle Beach. The goal of these towns located on the northern edge of the Grand Strand was to provide unmatched service, offer top-notch recreational activities and create a unique, safe community for its residents and the thousands of visitors who flock to the city each year.
The area is proud to claim itself as the birthplace of the shag, the official state dance of South Carolina. A Southern, subdued combination of swing dancing and the jitterbug, the shag is danced to beach (50s era) music. Each year, Ocean Drive hosts two week-long Shag Festivals, in April and September. Sponsored by the Society of Shaggers (SOS), the events bring thousands of devoted shaggers to the area. During those two weeks, Ocean Drive is transformed into a huge outdoor dance and social club. Main Street is closed to traffic and turned into one of the world's largest dance floors.

Read More About » North Myrtle Beach Condos in SC
Myrtle Beach Condos, Myrtle Beach South Carolina
A story has circulated for years surrounding the selling of the Maisons-Sur-Mer, the first successful Grand Strand condo project in what has become a booming industry in Horry, Georgetown and other counties up and down the
coast. The story is that to the surprise of real estate salespeople and developers, the people who vacationed next door in a campground were among the first buyers of the sophisticated, posh Maisons-Sur-Mer.
While the story can't be confirmed today, the fact is that some of those campers back in 1973 were driving pretty darned expensive recreational vehicles, suggesting they could afford to buy whatever condo they wanted to. But whether the story is fact or merely apocryphal, there's one incontrovertible — the condo industry on the Grand Strand leaped out of the Maisons-Sur-Mer experience with all the alacrity of Jack-jumping-over-the-candlestick.

Read More About » Condos in Myrtle Beach, SC